What do you think of when you hear the word beverage business? You must think that it takes high capital to set up. The reality is not always like that. Examples are some of the affordable capital drink business ideas below. You can use certain raw materials at a friendly price but can make a lot of profit. Read more here!
Read more : Whey Protein Drink Industry, Find Business Opportunities
Affordable capital drink business ideas, beginners can try it!
Syrup
You definitely won't resist the sweet taste of syrup-based drinks. Starting from children to adults, everyone likes it. The variety of flavors is diverse and very flexible to make combinations with any ingredients. Especially now that syrup can not only be made from fruits but in reality, the flower-based syrup is present as an attractive breakthrough for consumers.
In addition, the capital for the beverage business is also not too large. You only need a few ingredients to make a delicious and refreshing drink. You can market it at schools or huge events. On the other hand, you can earn a very profitable income every day.
Coconut Water
The next affordable capital drink business idea is coconut water. You should be grateful if you live in an area with abundant coconut tree growth. You can use it as a beverage business idea for visiting tourists.
Not only that, but you can also distribute it to big cities by selling it to supermarkets in ready-to-drink form. Another innovation that you can do is sell roasted coconut as a drink that helps improve body health.
Seeing a large number of coconut juice enthusiasts, of course, can bring many benefits in the future and you don't have to spend a lot of money to develop it.
Read more : How to Choose the Best Contract Manufacturer (CM)? Here's the Trick for You!
Smoothie/Fruit Juice
In each country, there are varieties of fruits with their characteristics. There is a reason behind the rise of healthy drink business ideas with fruit ingredients. You can consume it anytime according to your needs because this drink also knows the seasons.
Lately, the drink is also widely offered by way of a franchise. This method makes it easy for you to work together and sell it. Keep calm! The capital is also not high, but you can get all the facilities.
In addition to its delicious taste, you can also market it as a healthy drink. But the most important thing is that the raw materials used are affordable. Every day you can sell up to hundreds of cups of glass.
Herbal Drink
The next affordable capital drink business idea is herbal drink. Some countries, such as India and Indonesia, have a very diverse wealth of spices. Drinks made from herbal are well known as herbal drinks for alternative medicine to treat various diseases.
In the past, the processing was still simple, in contrast to now. Over time, the development of increasingly advanced technology has finally made the drink more modern and has a delicious taste.
Therefore, the herbal drink business is now in great demand by many people because it is very promising for its profits. You only need the right spices, processing methods, and marketing to attract market share.
Read more : 5 Profitable Beverage Business Ideas in 2022, Very Wonderful!
Vegan Milk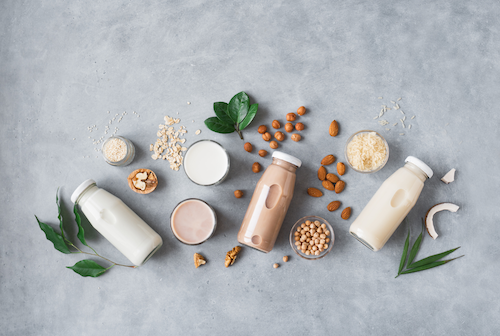 The last recommended affordable capital drink business idea is vegan milk. Since the vegan lifestyle has been in the spotlight in many countries, many vegan beverage products made from plant-based ingredients have started to appear.
One example is dairy products made from nuts (soybeans, almonds, pecans, peas) which are lactose-free, low in calories, and low in fat. So that not only vegan activists can consume it, but those of you who are on a diet can do it too.
That's the reason that attracts consumers' interest because in terms of nutrition it is also no less competitive than animal milk. It has great potential in the market, making this moment a pity if you don't try it. You can also innovate by providing a choice of other flavor variations and marketing them in advertising content to attract consumers to buy.
Read more : 3 Cool Brand Name Ideas for Unique Business
The service of making beverage products is much easy for you!
When building a beverage business, you must consider all the necessary aspects. Examples such as capital that must be spent to buy raw materials and labor to be employed. The development of the beverage business is increasingly skyrocketing, making you have to think out loud about how to expand its products quickly without having to spend high capital.
You don't have to be confused anymore! Everything will be easy with Putra Farma Yogyakarta as an experienced and highly credible contract manufacturer of instant drinks since 2000. Our location is in Indonesia, precisely in Yogyakarta. In addition, we also accept orders to be shipped worldwide.
With our services, you can make your own branded instant beverage products without must to think about high capital to build your factory. We provide a wide selection of instant beverage products such as beauty drinks, herbal drinks, dairy products, supplement drinks, slimming drinks, women's health drinks, and raw materials for the beverage business. 
For product legality issues, you don't have to worry! Because we guarantee that our products use the best quality raw materials that are legally certified and have food testing from the laboratory. We also carry out production with GMP, and HACCP standards, as well as double checking. Get various benefits by cooperating with us including special product formulations; create your brand name; free product packaging design; MOQ friendly; complete legal registration; and others.

The most complete and trusted beverage manufacturer with a process that is easy, fast, safe, realible, and affordable. For more information, please contact CV. Putra Farma Yogyakarta.
Find us on social media:
Instagram @putrafarmayogyakarta
Facebook Putra Farma Yogyakarta

LinkedIn Putra Farma Yogyakarta
Twitter @putrafarmayk
TikTok @putrafarmayogyakarta
Putra Farma Yogyakarta. Minimum

price

, Premium

taste

.
"Special promotion for August 2022. Get a 25% discount on HKI (Intellectual Property Rights) registration"
"Promo for every 5000 box order, you will get free 250 boxes of all variants. Hurry up and make your best version of the product! There's fress shipping in town, you know!"
Source :