Milk is a drink that is rich in health benefits. Even in Indonesia, consuming milk has become a daily routine for people. Business opportunities can also be a solution to improve the nation's economy. Moreover, Indonesia also raises a lot of mammals like goats. Therefore, you can try to open a goat's milk powder business with economic capital. Check out the strategy below!
Read more : 3 Bottled Product Packaging Design Ideas for Your Beverage Business
Goat's milk powder business strategy that you should do.
Market Desire Research
This research aims to make it easier for you to find out what the wants and needs of the market are. In addition, you can find out what advantages and disadvantages competitors have with similar products. That way, you can create a different and more unique goat milk business innovation.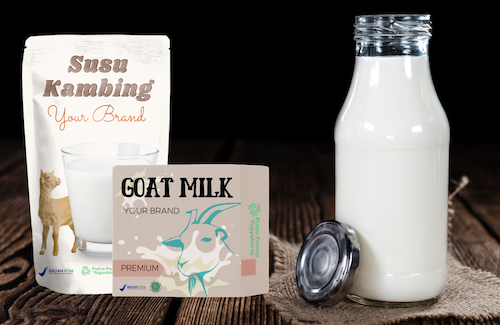 Raising Goats Independently
Farming goats independently will help ensure the quality of your products. In addition, you can also monitor the availability of the capacity of the milk produced to be in powder form. Another added point, when the animal is getting old, you can sell it and replace it with a young goat.
Read more : Make Business Grow Fast with 6 Digital Marketing Strategy Plans
Business Plan
For the success of your goat's milk business, it is necessary to have the right plan concept. For example, who is your target market, young people or adults. Then create a brand name that is unique and easy to remember.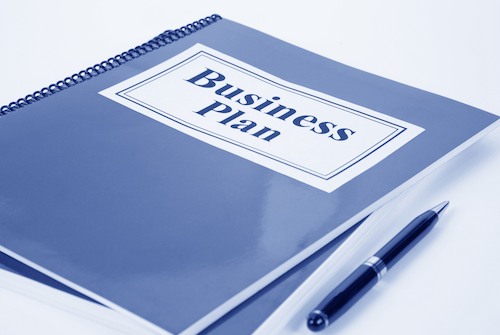 Then pay attention to the product packaging side, such as using small sachets, pouches, boxes, or bulk packages. Also, don't forget to pay attention to product marketing! You can use online or offline marketing to reach an extensive market.
Your Product Advantage
Consumers will be more interested in different products and become one of the breakthroughs in the business world. Therefore, a product that can present it has added value compared to other similar competitors in the eyes of consumers. You can try making a goat's milk collaboration by adding various flavors such as chocolate, latte, or coffee.
Read more : 3 Ice Cream Business Inspirations with Tempting Profits
Market widely
A quick way for your goat's milk product to be famous and earn a booming profit is to promote it widely through social media and marketplaces. Besides being easy to use, advertising digitally is not too expensive and time-consuming.
Another option is to market it manually by entrusting it to stalls or supermarkets. It all depends on the approach you will take to attract more consumers.
Read more : 4 Thai Tea Business Strategy, the Profits Do Not Disappoint!
Try working with instant beverage service.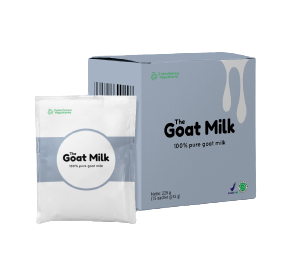 It is undeniable that opening a business will always encounter various kinds of obstacles. But, you don't have to worry! Currently, there are services for making instant beverage products that can help make it easier for you. You can entrust it to Putra Farma Yogyakarta as an experienced and highly credible contract producer since 2000. Our location is in Indonesia, precisely in Yogyakarta. In addition, we also accept orders to be shipped worldwide.
With our services, you can make your own branded instant beverage products without must to think about high capital to build your factory. You can make goat's milk powder products with premium quality raw materials without harmful preservatives and have a long shelf life of up to 2 years. For product legality issues, you don't have to worry! Because we guarantee that our products use the best quality raw materials that are legally certified and have food testing from the laboratory. We also carry out production with GMP, and HACCP standards, as well as double checking.
Get various benefits by partnering with us, including :
consulting all product needs;
create custom brand names;
raw materials without preservatives or harmful dyes;
product recipes are guaranteed 100% confidentiality;
special product formulation for one client only;
free product samples with applicable conditions;
free revision until you find the right formulation;
easy terms of cooperation;
free to choose the form of product packaging (box/pouch/sachet/bottle/jar);
product formulation can be from the customer or the company;
free logo design and product packaging as desired;
flexible payments can be repaid to 3 times;
MoU on cooperation at an affordable cost;
Nutritional Value Information management services;
management of product Intellectual Property Rights;
registration of distribution permits for POM and HALAL MUI;
product shelf life up to 2 years;
negotiate Cost of Goods Sold issues;
we are ready to adjust to the capital you have;
delivery throughout Indonesia with various trusted expeditions.

The most complete and trusted beverage manufacturer with a process that is easy, fast, safe, realible, and affordable. For more information, please contact CV. Putra Farma Yogyakarta.
Find us on social media:
Instagram @putrafarmayogyakarta
Facebook Putra Farma Yogyakarta

LinkedIn Putra Farma Yogyakarta
Twitter @putrafarmayk
TikTok @putrafarmayogyakarta
Putra Farma Yogyakarta. Minimum

price

, Premium

taste

.
"Special Promo for September 2022. 75 Million All-in Package

Make Your Drink Brand."
"Promo for every 5000 box order, you will get free 250 boxes of all variants. Hurry up and make your best version of the product! There's fress shipping in town, you know!"