Who is not attracted by the soft and cold sensation of ice cream? This dish is loved by all people, from children to the elderly. Therefore, doing business with these products is a brilliant idea to bring in many customers. Here are some ice cream business inspirations that you can try. Check out the full review here!
Read more : 4 Thai Tea Business Strategy, the Profits Do Not Disappoint!
Ice cream business inspirations for the best idea.
Ice Cream Truck
The food truck industry has changed a lot in the last few decades. This business strategy grew through marketing by attracting consumers through music jingles and driving from house to house. Thanks to increasingly sophisticated technology, it is easier for you to accept orders based on consumer requests. In addition, you can also offer ice cream products along with coffee drinks for office workers.
Read more : 3 Tricks to Start an Almond Milk Business from Home
Ice Cream Pushcart
Saturdays and Sundays are great times to get around using the ice cream carts while selling them from park to park. At that time, many people will go out to enjoy the holidays with their family members. This ice cream business strategy using a cart is an affordable alternative, but it will also bring many benefits.
Read more : 5 Affordable Capital Drink Business Ideas You Can Start Now!
Ice Cream Shop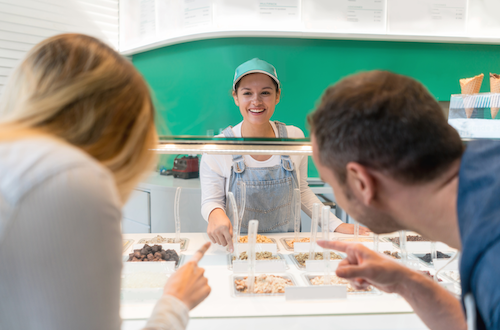 Currently, many culinary innovations combine food with ice cream. One of them makes the ideal combination of ice cream along with waffle desserts. The savory taste of the waffle mixed with the ice cream can attract consumers to buy it so that it becomes the right and profitable business choice.
Read more : Whey Protein Drink Industry, Find Business Opportunities
We are the right choice!
The culinary business world is growing, giving birth to many breakthroughs to attract more consumers. You can also see how successful the café beverage business is in various countries. Therefore, this is a great opportunity that you should not miss. One way to make it happen could entrust it to Putra Farma Yogyakarta as a contract producer service in the manufacturer of instant beverage products that have been experienced and have high credibility since 2000. Our location is in Indonesia, precisely in Yogyakarta. In addition, we also accept orders to be shipped worldwide.
With our services, you can make your own branded instant beverage products without must to think about high capital to build your factory. We provide various variants of café drink flavors such as coffee, latte, chocolate, tea, and fruit. For product legality issues, you don't have to worry! Because we guarantee that our products use the best quality raw materials that are legally certified and have food testing from the laboratory. We also carry out production with GMP, and HACCP standards, as well as double checking.
Get a variety of benefits by becoming our business partner including :
consulting all product needs;
create custom brand names;
raw materials without preservatives or harmful dyes;
product recipes are guaranteed 100% confidentiality;
special product formulation for one client only;
free product samples with applicable conditions;
free revision until you find the right formulation;
easy terms of cooperation;
free to choose the form of product packaging (box/pouch/sachet/bottle/jar);
product formulation can be from the customer or the company;
free logo design and product packaging as desired;
flexible payments can be repaid to 3 times;
MoU on cooperation at an affordable cost;
Nutritional Value Information management services;
management of product Intellectual Property Rights;
registration of distribution permits for POM and HALAL MUI;
product shelf life up to 2 years;
negotiate Cost of Goods Sold issues;
we are ready to adjust to the capital you have;
delivery throughout Indonesia with various trusted expeditions.

The most complete and trusted beverage manufacturer with a process that is easy, fast, safe, realible, and affordable. For more information, please contact CV. Putra Farma Yogyakarta.
Find us on social media:
Instagram @putrafarmayogyakarta
Facebook Putra Farma Yogyakarta

LinkedIn Putra Farma Yogyakarta
Twitter @putrafarmayk
TikTok @putrafarmayogyakarta
Putra Farma Yogyakarta. Minimum

price

, Premium

taste

.
"Special Promo for September 2022. 75 Million All-in Package

Make Your Drink Brand."
"Promo for every 5000 box order, you will get free 250 boxes of all variants. Hurry up and make your best version of the product! There's fress shipping in town, you know!"
Source :