The aspiration to have an ideal body can be achieved in various ways, such as improving eating habits with healthier choices. One example is by consuming smoothies made from a combination of high-fiber vegetables and fruits that are rich in essential nutrients. For those who are promoting weight loss programs, here are some diet smoothie combinations that you should try! Check out the recipes here!
Read more : Do You Know the 5 Types of Collagen in the Body?
These successful diet smoothie combinations will leave you amazed!
Berry Kiwi Smoothie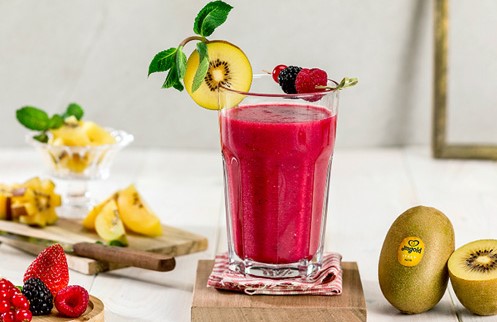 Both types of fruits contain important nutrients such as vitamins, high antioxidants, and minerals. Especially the fiber, which is useful in aiding weight loss by reducing triglyceride levels and decreasing blood size (according to research from Platelet).
To make it, blend 1 cup of strawberries, ¾ cup of raspberries, ½ cup of blueberries, 2 peeled kiwis, and 1 cup of orange juice together using a blender until well combined. Consume regularly for optimal results.
Almond Butter Smoothie
The next diet smoothie combination is almond butter smoothie. The ingredients in this drink are rich in protein and omega-3 fatty acids! It is considered a recommended menu for a healthy diet.
The required ingredients are 1 cup of almond milk, 1 tablespoon of almond butter, and 1 teaspoon of chia seeds. Blend them until smooth and evenly mixed. For maximum results, drink it every day before engaging in your busy daily activities.
Read more : 5 Benefits of Marine Collagen, a Source of Goodness for Health and Beauty
Cinnamon Apple Smoothie
Do you want a filling smoothie that keeps you satisfied for a long time? You should try this variation. With its delicious and refreshing taste, it will prevent you from being tempted to over-snack!
To make it, blend 1 apple, 1 banana, ½ cup of yogurt, ½ cup of low-fat milk, and ¼ teaspoon of cinnamon together using a blender until well mixed. Consume it in the morning along with your healthy breakfast.
Turmeric Pineapple Smoothie
The last diet smoothie combination is the turmeric pineapple smoothie. With the active compound curcumin found in turmeric, it can inhibit the risk of inflammation in the body, which is one of the causes of obesity-related diseases.
The required ingredients are 1 fresh turmeric root/1 teaspoon of turmeric powder, ½ mango, and ½ pineapple. Blend them until smooth. Drink it before lunchtime to suppress excessive appetite.
Read more : Tricks to Create an Ideal Body with a Two-Ingredient Diet Recipe!
The fiber drink business is incredibly profitable!
The desire of many people to achieve an ideal body has led to the emergence of a product to address this need. The popularity of fiber drinks in the market makes them a sought-after choice for both women and men. Isn't this a great opportunity for you to capture an even wider market?
You can entrust it to Putra Farma Yogyakarta as an experienced and highly credible instant beverage product contract manufacturer since 2000. Our location is in Indonesia, precisely in Yogyakarta. In addition, we also accept orders to be shipped worldwide.

With our services, you can make your own branded instant beverage products without must to think about high capital to build your factory. We provide a variety of fiber drink products such as fiber detox, fiber tea, satiety-focused fiber, meal replacement diet, cereal diet, slimming tea, or tailor-made to your request.
For product legality issues, you don't have to worry! Because we guarantee that our products use the best quality raw materials that are legally certified and have food testing from the laboratory. We also carry out production with GMP, and HACCP standards, as well as double checking.
Many benefits await you by establishing a business partner with us, including:
consulting all product needs;
create custom brand names;
raw materials without preservatives or harmful dyes;
product recipes are guaranteed 100% confidentiality;
special product formulation for one client only;
free product samples with applicable conditions;
free revision until you find the right formulation;
easy terms of cooperation;
free to choose the form of product packaging (box/pouch/sachet/bottle/jar);
product formulation can be from the customer or the company;
free logo design and product packaging as desired;
flexible payments can be repaid to 3 times;
MoU on cooperation at an affordable cost;
Nutritional Value Information management services;
management of product Intellectual Property Rights;
registration of distribution permits for POM and HALAL MUI;
product shelf life up to 2 years;
negotiate Cost of Goods Sold issues;
we are ready to adjust to the capital you have;
delivery throughout Indonesia with various trusted expeditions.

The most complete and trusted beverage manufacturer with a process that is easy, fast, safe, realible, and affordable. For more information, please contact CV. Putra Farma Yogyakarta.
Find us on social media:
Instagram @putrafarmayogyakarta
Facebook Putra Farma Yogyakarta

LinkedIn Putra Farma Yogyakarta
Twitter @putrafarmayk
TikTok @putrafarmayogyakarta
Putra Farma Yogyakarta. Minimum

price

, Premium

taste

.
"Promotion May Skyrocket"
<Make Collagen Drink and Fiber Drink Products with a Capital of 10 MILLION!>
*Terms and Conditions apply*
"Promo for every 5000 box order, you will get free 250 boxes of all variants. Hurry up and make your best version of the product! There's fress shipping in town, you know!"
Source :