Building a herbal tea business is currently easy to do with various service systems, for example, instant beverage manufacturing services. This service will help you get the beverage products you want without must to set up a factory first. Precisely all your needs will be prepared and taken care of thoroughly. Interesting right? Check out more about how to start an appropriate herbal tea brand below!
Read more : Instant Slimming Tea Trend, Prove Yourself the Benefits!
Current herbal tea brand trends.
Consuming tea drinks is one of the daily routines of the world's people are never left behind. These activities have been passed down from generation to generation since centuries ago and are ingrained in today's generation. In ancient times, we only knew the types of tea drinks like black tea, jasmine tea, or green tea. Thanks to increasingly sophisticated technology, it makes more and more product variations. And dividual into categories such as fruit tea, herbal tea, to modern cafe tea. In each category, tea products have unique and different characteristics and tastes.
One type of herbal tea on the market today is more and more devotees. The reason is that these products offer a variety of properties that are useful for maintaining a healthy body. Especially now, there are rampant dangerous diseases that are a threat. Moreover, the herbal tea brand market is very diverse, making herbal tea a target for consumers.
Seeing this phenomenon eventually gave birth to many novice entrepreneurs getting involved in starting their businesses by presenting their herbal tea brand using the services of an instant drink contract manufacturer. With instant beverage manufacturing services, you can make beverage products easily and follow current trends to attract more consumers. Remembering that the product you are marketing will be officially certified will increase consumer enthusiasm and trust.
Of course, this is very profitable for you! Because you don't need to think about the production of the product or the issue of product legality permits. Plus, you can request a product formulation according to your wishes in terms of taste, texture, or the addition of other raw materials. In addition, we will also help design product packaging and permit product legality until it reaches your hand. That way, making a guaranteed herbal tea brand becomes easier!
Read more : 4 Small Drink Business Ideas, Low-cost Guaranteed!
Realize your herbal tea products with us!
We are ready to become a business partner to make your version of the herbal tea brand as you wish. You can share all the ideas/concepts you have. We will assist with all processes until the product is ready for market.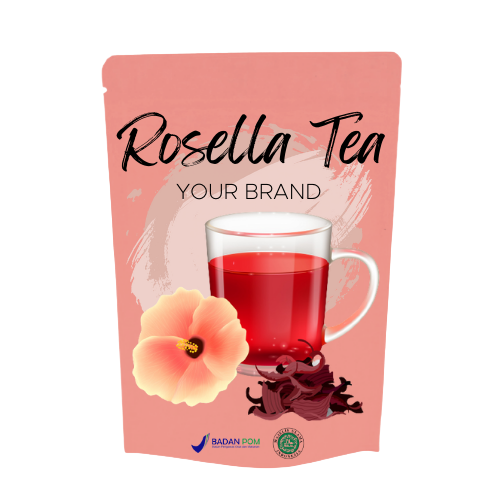 Why should you use our services?
Putra Farma Yogyakarta is a contract manufacturer of instant drinks with experience and high credibility in their field since 2000. Our location is in Indonesia, precisely in Yogyakarta. In addition, we also accept orders to be shipped worldwide. With our services, you can make your own branded instant beverage products without must to think about high capital to build your factory.
We provide various herbal tea products such as butterfly pea flower tea, cinnamon tea, ginger tea, ginseng tea, lemongrass tea, red rice tea, rosella tea, or according to your request. We accept the manufacture of ready-to-brew instant herbal tea products in various forms of packaging like boxes, sachets, bottles, to pouches.
Then we also give you a free service to consult with our RnD Team to make product formulations for the drink. We leave you free to add other supporting ingredients/nutrients so that the product is more efficacious and sells on the market. For product legality issues, you don't have to worry! Because we guarantee that our products use the best quality raw materials that are legally certified and have food testing from the laboratory. We also carry out production with GMP, and HACCP standards, as well as double checking.
Get many benefits by working with us, including product consulting; free to create a brand name; special product formulations; free product samples; flexible MoUs; free product packaging design; free to choose the form of product packaging; free revision of product samples until suitable; long shelf life; cost price negotiation; product legality registration; etc.

The most complete and trusted beverage manufacturer with a process that is easy, fast, safe, realible, and affordable. For more information, please contact CV. Putra Farma Yogyakarta.
Find us on social media:
Instagram @putrafarmayogyakarta
Facebook Putra Farma Yogyakarta

LinkedIn Putra Farma Yogyakarta
Twitter @putrafarmayk
TikTok @putrafarmayogyakarta
Putra Farma Yogyakarta. Minimum

price

, Premium

taste

.
"Promo for every 5000 box order, you will get free 250 boxes of all variants. Hurry up and make your best version of the product! There's fress shipping in town, you know!"