Since the Covid-19 pandemic has hit all corners of the world, there has been a growing awareness of increasing self-immunity. One surefire solution is to consume herbal beverage products. In various regions, people believe that drinking products made from herbal spices or herbal medicine can maintain a healthy body. Technological developments are increasingly sophisticated, making herbal product innovations present in the form of instant powder. The reason that makes the business opportunity very promising is that it can generate large profits. If you are interested in developing it, check out the instant herbs business tricks below!
Read more : Instant Slimming Tea Trend, Prove Yourself the Benefits!
Instant herbs business tricks that will make your steps easier.
Determine Product Type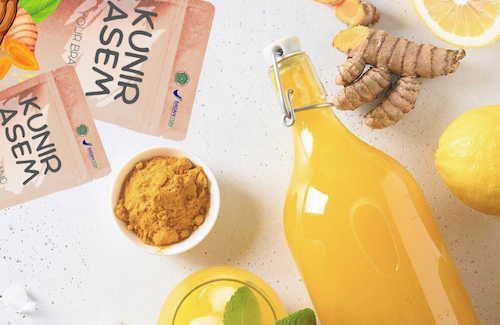 So that you can calculate the overall costs that will be incurred and avoid various obstacles that may arise, try to produce many types of herbal preparations such as aromatic ginger rice, turmeric, tamarind, curcuma, ginger, bitter herbs, and so on.
If you have decided on the herbal product you want to produce, it will be easier for you to find the correct type of machine to process the raw material into powdered herbs. That way, you can get the best quality products with the possible method.
Raw Materials from Farmers
If you want to get raw materials that are fresh and affordable, look for the farmers directly. You can monitor how the quality of existing raw materials. In addition, in terms of price, it will also be different from other places, such as markets, because it is subject to distribution costs and taxes. Choosing raw materials that are still fresh will maintain the high quality of powdered herbal products, and their shelf life will last longer.
Read more : Collagen Drink Industry Opportunity, Famous Products Ready to Hit the Market!
Create a New View
Today's youth usually don't pay much attention to drinks like herbs, most likely because those who consume them are mostly oldster. As you know, even herbal drinks have notable nutrients that are very good for the health of the human body. Various factors make consumers not want to buy, such as bitter taste or unattractive packaging.
Therefore, you can make another breakthrough by creating a new look for powder packaging in the form of small pouches or sachets in a box. You can also make different formulations with a more delicious taste to attract buyers. Then don't forget to create a unique brand name as a characteristic of your product so that people can easily recognize it.
Right Promotion
Use the features on social media platforms and marketplaces to make your powdered herbal products widely and quickly known. You can make various advertising videos such as the production process, making drinks, and so on to further convince consumers. Besides that, you can also market it through stalls, markets, supermarkets, and so on so that your product can enter small lines as rural residents who may still be taboo with technology.
Read more : Creating an Herbal Tea Brand is Easier with Contract Manufacturers!
Now you don't need to be confused anymore!
Want to open an instant herbs business, but are still constrained by factory equipment and manpower? Just calm down! You can entrust it to Putra Farma Yogyakarta as an experienced and highly credible instant beverage product contract manufacturer since 2000. Our location is in Indonesia, precisely in Yogyakarta. In addition, we also accept orders to be shipped worldwide.
With our services, you can make your own branded instant beverage products without must to think about high capital to build your factory. You can make herbs products such as aromatic ginger rice, tamarind turmeric, curcuma, and so on in the form of a practical, ready-to-drink instant powder.
For product legality issues, you don't have to worry! Because we guarantee that our products use the best quality raw materials that are legally certified and have food testing from the laboratory. We also carry out production with GMP, and HACCP standards, as well as double checking.
Get many benefits by working with us, including product consulting; free to create a brand name; special product formulations; free product samples; flexible MoUs; free product packaging design; free to choose the form of product packaging; free revision of product samples until suitable; long shelf life; cost price negotiation; product legality registration; etc.

The most complete and trusted beverage manufacturer with a process that is easy, fast, safe, realible, and affordable. For more information, please contact CV. Putra Farma Yogyakarta.
Find us on social media:
Instagram @putrafarmayogyakarta
Facebook Putra Farma Yogyakarta

LinkedIn Putra Farma Yogyakarta
Twitter @putrafarmayk
TikTok @putrafarmayogyakarta
Putra Farma Yogyakarta. Minimum

price

, Premium

taste

.
"Promo for every 5000 box order, you will get free 250 boxes of all variants. Hurry up and make your best version of the product! There's fress shipping in town, you know!"